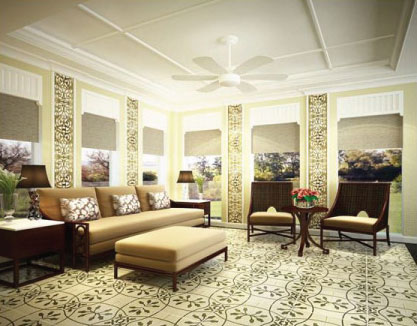 Thai listed real estate developer Asian Property Development (AP) plans to place more focus on low rise housing projects during the second half of 2010, kicking off with Baan Klang Krung Sathorn – a THB900 million (US$27.8 million) townhouse project near Sathorn Road in Bangkok.
AP's Deputy Chief Marketing Officer – Strategic Marketing, Vittakarn Chandavimol, said the company will launch 15 projects by the end of 2010 with a combined value of more than THB24.3 billion (US$751 million).
Baan Klang Krung Sathorn is the first project to be launched. It consists of 90 units of three- and four-storey townhouses with usable area ranging from 152 sqm to 243 sqm. Prices start from THB9 million (US$278,120). A total of 83 units have been sold during the presales for existing customers.
Vittakarn said: "We have learned that each market has its own demand. Supplies for one market don't, therefore, belong to another. From our research we've found that demand for low-rise houses in Bangkok remains high, which is opposite to supplies in the market where most developers tend to focus more on high-rise projects, especially those located in the heart of the city."
In addition to Baan Klang Krung Sathorn, new projects will include another six townhouse projects under the Baan Klang Krung and Baan Klang Muang brands with a combined value of THB7.4 billion (US$229 million), five single detached house projects under the City brand (THB7.4 billion – US$229 million), and three condominium projects in the Sukhumvit, Sathorn and Aree areas of the Thai capital (THB9.6 billion – US$297 million).
Source: AP
2594 total views, 1 so far today